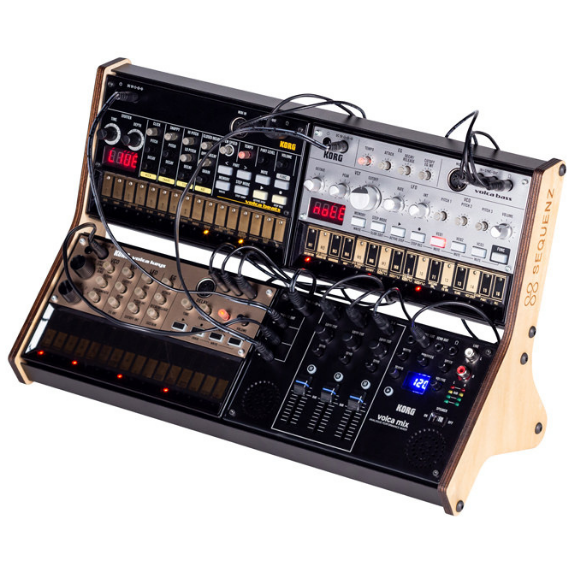 volca

 rack

RACK SYSTEM FOR VOLCA
Rack

 up those volcas.

volca racks are all about "volcanomics" (volcas + ergonomics). Up to four (2 x 2 ) volcas can be arranged as desired, all securely in place thanks to durable aluminum framing and rubber legs.

Asymmetrical side panels enable you to flip the rack to be deeper or taller, and it is punctuated with wood ends for sturdiness and great looks.

Dimensions (W x D x H)
imensions (W x D x H): 411 mm x 242 mm x 157 mm / 16.18″ x 9.53″ x 6.18″ (Horizontal position), 411 mm x 171mm x 234 mm / 16.18″ x 6.73″ x 9.21″ (Vertical position)

Weight
1.1 kg / 2.43 lbs.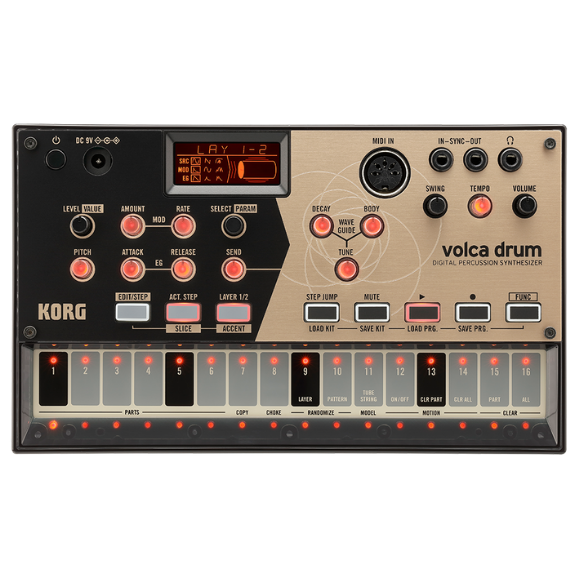 Welcome to an infinitely expanding world of sound-design.
Joining volca kick and beats as the third, and most unique, drum synth in the volca lineup.
The volca series is all about unique sound. Whether it's analog, PCM, or FM, the volca series puts unique sounds into an accessible platform. And now, the series is joined by a new rhythm machine that brings yet another sonic character. It's the volca drum digital percussion synthesizer.
Based on a simple trigger waveform, wave folder and overdrive are used to add overtones and distortion, and then a waveguide resonator effect brings the sound to life. The six-part DSP synth engine was designed with a completely different philosophy than conventional drum machines, and generates a wide range of unexpectedly different sounds. And of course, you can play those sounds from the volca-style sequencer.
Adding these distinctive sounds to your rhythms will revolutionarily transform your performances and productions.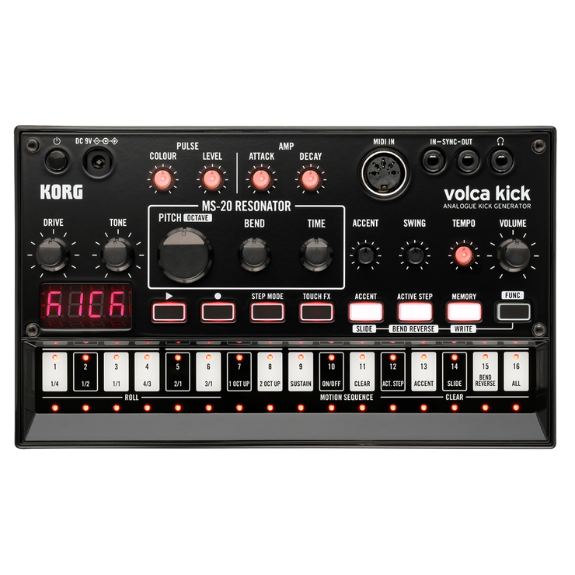 An analog kick generator that delivers powerful sounds from kick drum to kick bass
The volca series has consistently brought renewed attention to classic groove machines and historical synthesis. It now has a new focus. This time, it's the most important sound in dance music: the kick.
The volca kick is an analog kick generator that's made for sound design. An analog circuit based on the powerful resonant sound of the original MS-20 filter, it lets you create a wide range of kick sounds only possible through analog circuitry, ranging from solid kick drums to crisp kick basses. The 16-step sequencer, a distinctive feature of the volca, now has a new Touch FX feature that lets you control an effect instantly, giving you even more live performance potential. Experience the stunning power of an analog kick that cannot be obtained from a plug-in or a sample.
An analogue performance mixer that completes your volca setup.
volca mix is the long-awaited mixer for the volca series. The volca mix is a four-channel analogue performance mixer that lets you construct a live setup combining multiple volca units.
Volume faders are easy to control, plus crisp-sounding LO/HI CUT filters, and a master chain that radically transforms the sound. In addition to the sync function found on all volcas, there are also DC output connectors that can supply power for up to three volca units. Numerous functions to facilitate your on-stage volca performances have been packed into a high-quality aluminum-paneled body, reminiscent of a high-end DJ mixer.
The volca mix will unlock the maximum potential of the volca series.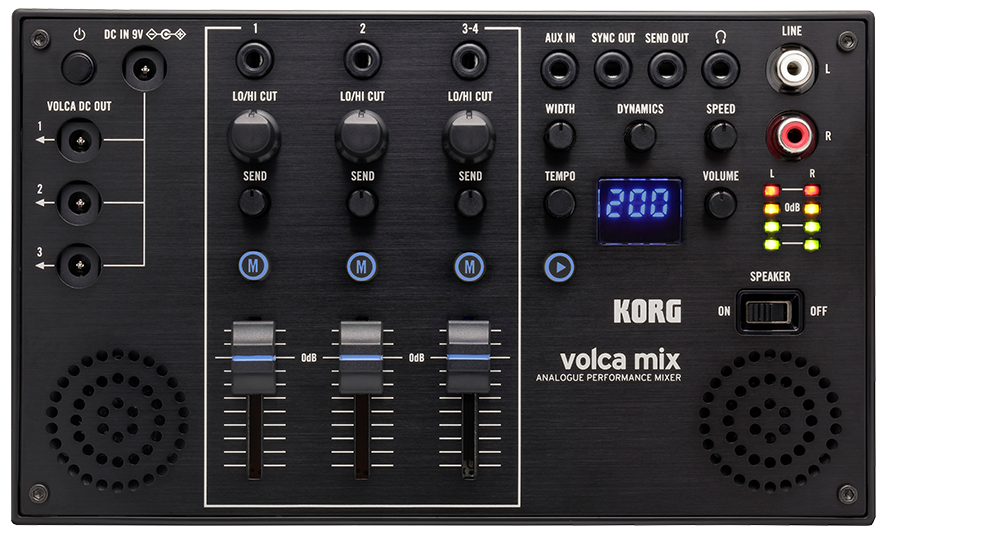 An analog mixer for performance.
The volca mix is a four-channel analog mixer with an intuitive interface and plenty of connectivity. It provides two mono inputs and one stereo input, perfect for connecting three volca units. The jacks are mini-jacks, allowing you to make connections with just one stereo mini-cable from the headphone out of each volca unit. The channel volumes use vertical faders that allow precise control. The gain can be boosted to adjust the mix balance, and mute buttons are also provided. Each channel is also equipped with a LO/HI CUT filter that lets you control the low and high frequency ranges with a single knob. The pristine, natural-sounding filters that you expect from analog gear give you complete control over the character of your sound.
Output and monitor capabilities for use on stage, plus stereo speakers for maximum portability.
The output section provides RCA stereo line outputs to ensure stable connection. There's a master volume with LED VU meter for adjusting the output level, as well as a headphone output that can be used simultaneously with the line output, providing a reliable monitoring environment on stage. Speakers are also built-in for excellent portability. The stereo speakers are placed at both sides of the front, and while compact, deliver SPL levels that are even greater than the built-in speakers on previous volca units.
Powerful effects and control.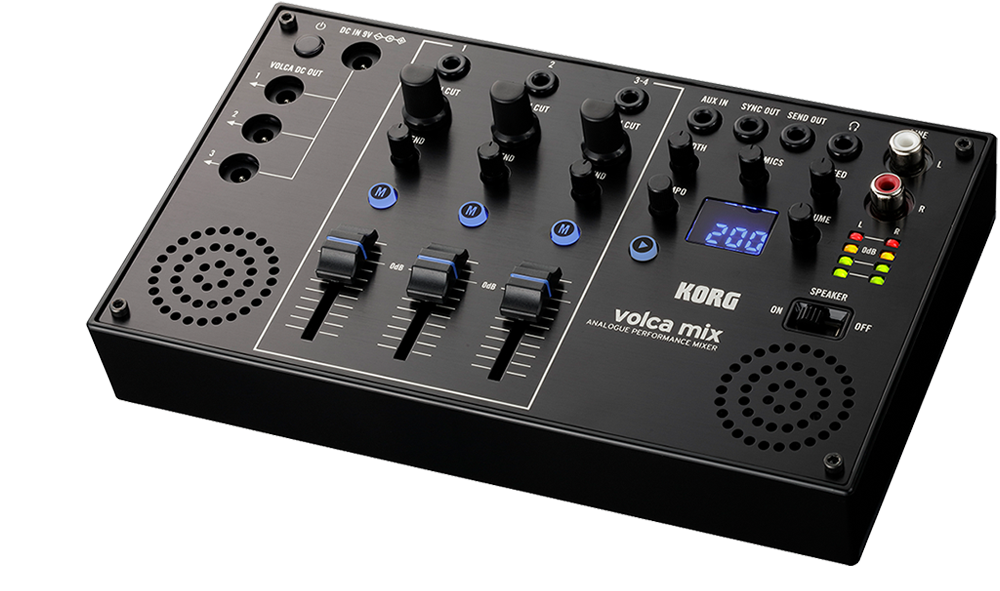 Powerful master chain.
The volca mix is equipped with master effects powered by all-analog circuitry. In addition to an expander that broadens a mono source into a stereo sound image, there's a dynamic range compressor that compresses the high-frequency range according to level changes of the low-frequency region, as well as a side chain effect that's indispensable for dance music. Use these to dynamically vary the mix, adding a professional feel to live performances with the volca.
Connect an external effect unit for further variety.
The volca mix provides a stereo mini-jack send out and AUX in jack, and send level knobs for each channel. This allows you to use it with an external effect unit in a send/return connection. When used in conjunction with a unit such as the mini kaoss pad 2S, you can also enhance your live performances using standard effects such as reverb, delay, filter, and break. The AUX in jack can also be used as a stereo input channel for a fourth volca unit, an iOS app, or any other gadget, instrument, or device.
As the master of your volca live setup.
The volca mix features an analog sync out jack that can easily be connected to many pieces of KORG gear for tempo sync, and also a play button and tempo knob to control that sync signal. By using the volca mix as the sync master device of your live setup, you can easily enhance your live performance, such as simultaneously playing sequences from multiple synced units, and combining mute and volume control to create performances that use your volca units in even more ingenious ways.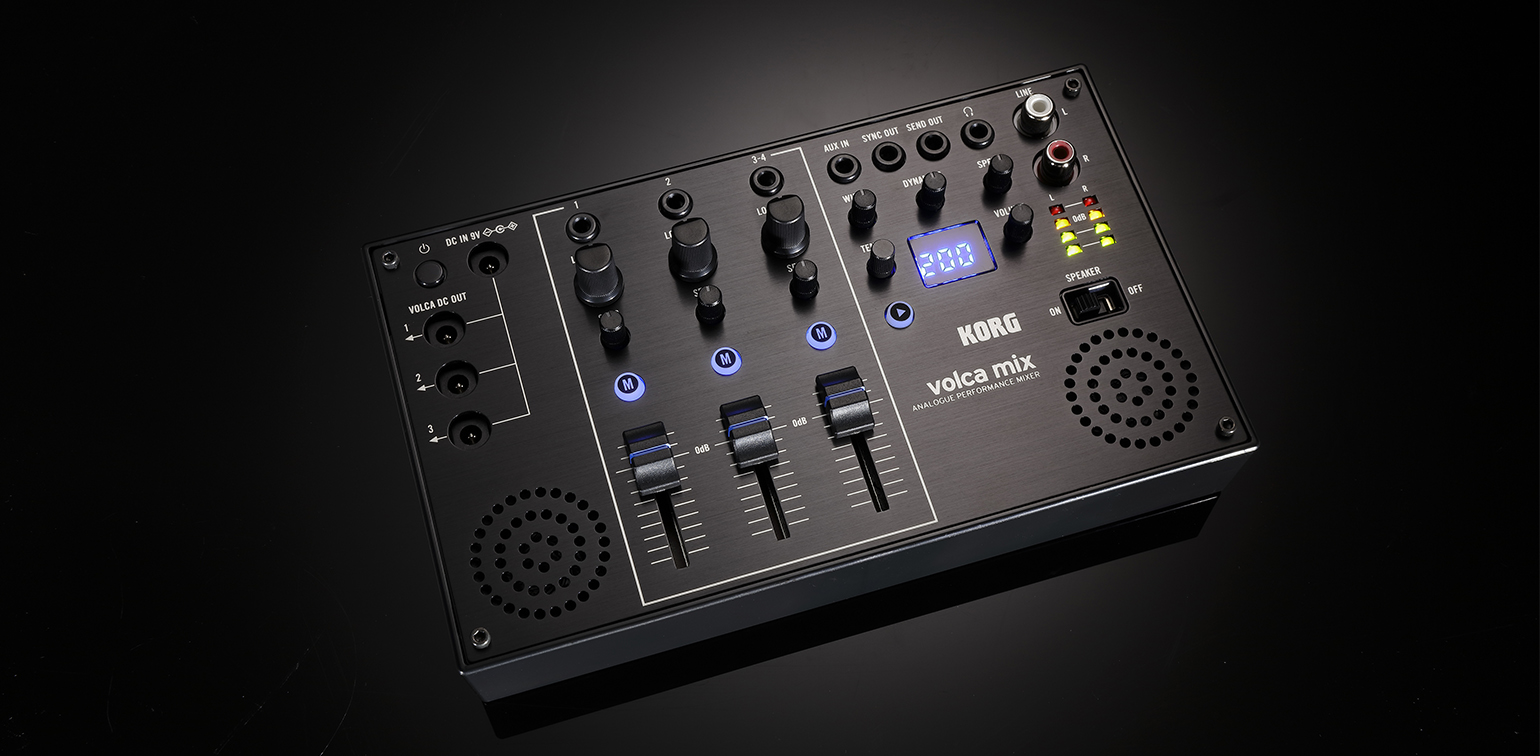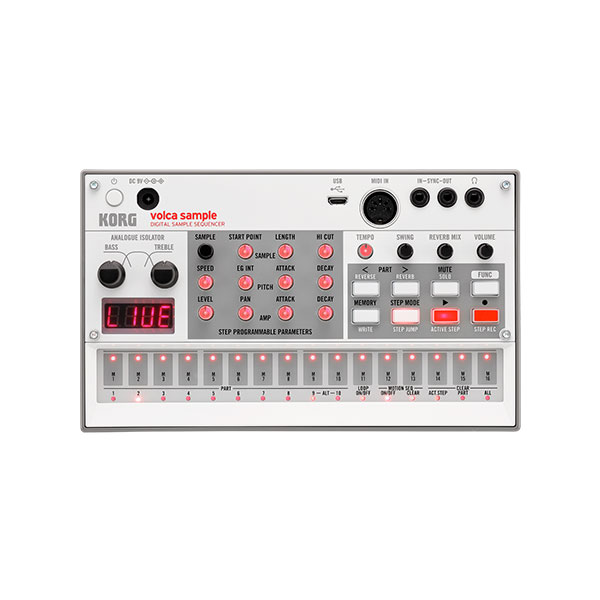 Improved for More Groove
A new generation volca sample with more memory, features, and connectivity to take your beat making further than ever before.
The volca sample is the compact and powerful sample-based drum machine that has captured attention and creativity of countless players around the world.
The newest version retains all of the features which made the original so popular, and adds a micro USB port for better connectivity, increased sample memory, a new up to date sound library and additional functions for an improved workflow.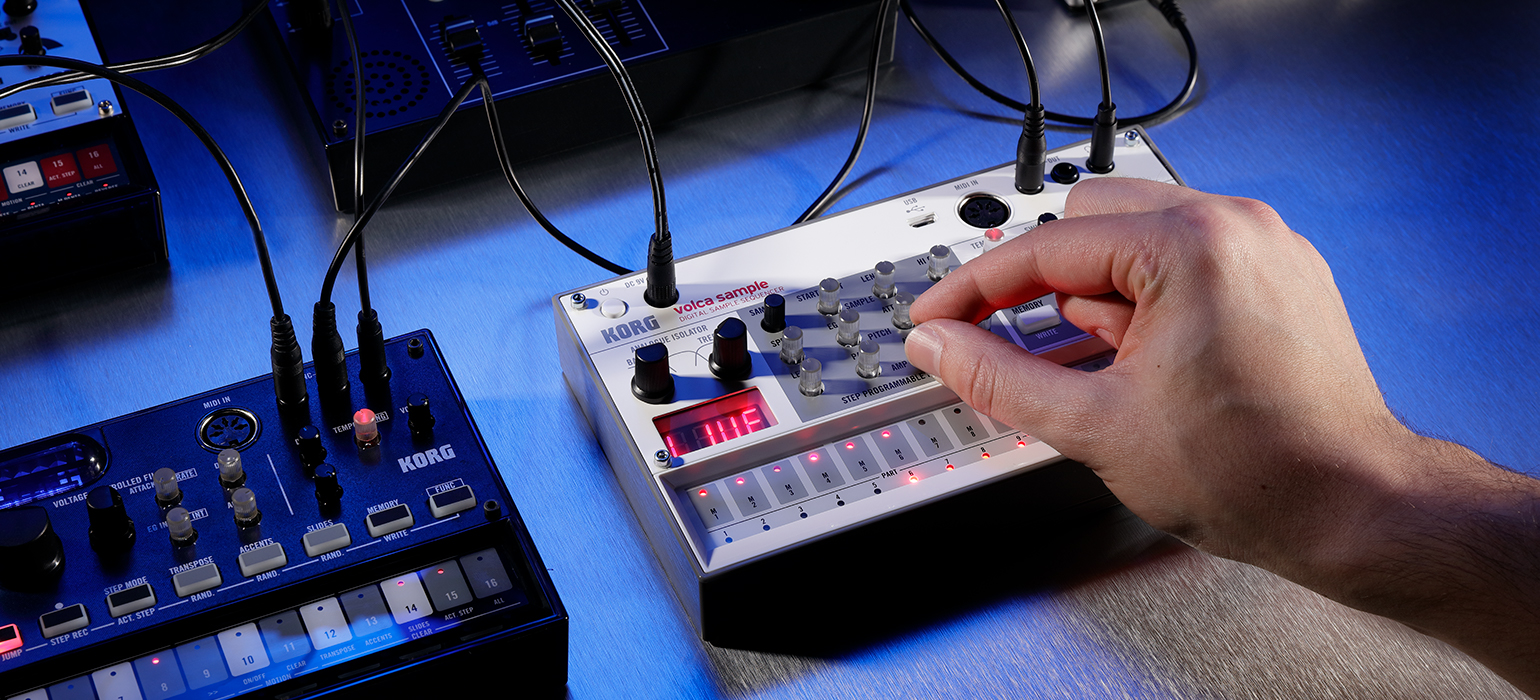 Your portable beat making studio
The volca sample has everything that you need to create the music you like,and in a portable small form factor that you can take anywhere! On its own, it is an advanced sample machine with a powerful engine capable of 8 voice polyphony, digital reverb, a rich powerful double filter and plenty of knobs for sample manipulation which make this a powerful sampler. Totally hands on with plenty of knobs for sample manipulation, volca sample runs on 6 AA batteries, has an integrated speaker and at only 372g/13oz (without batteries) is perfect for stand-alone use! Furthermore, with its USB, SYNC IN-OUT and MIDI connections, volca sample can integrate seamlessly with your live rig, production studio and of course any other volca!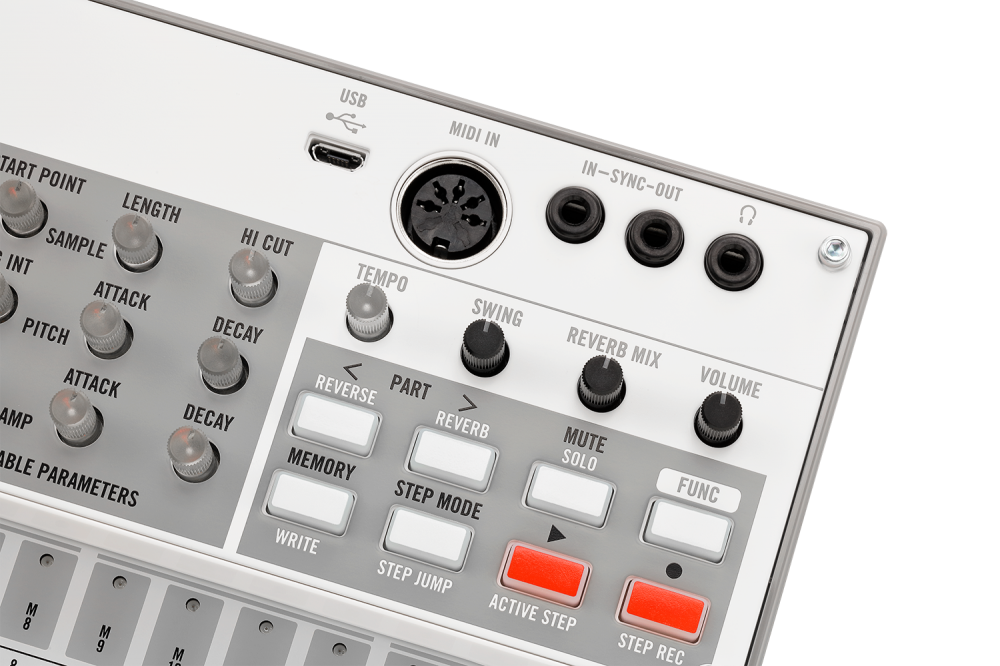 USB for Faster Sample Management and Better Connectivity
The new micro USB port added to the volca sample allows you to connect your volca sample to your computer to easily control your volca and manage your samples. It allows you to easily control, sync, and play your volca sample from any DAW. Plus, each part has the option to receive on a separate corresponding MIDI channel, making it easier to perform when using an external device such as a sequencer or keyboard.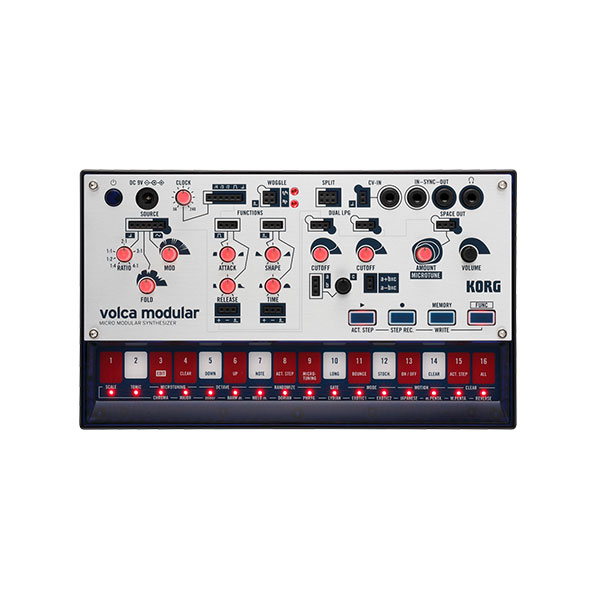 A semi-modular analog synthesizer that makes modular synthesis more accessible and understandable than ever before.
Creating new sounds that don't exist in the outside world is an unending dream which has continued since the birth of electronic musical instruments. This dream has evolved and expanded throughout the development of new and unique music production devices.
The popularity of modular synthesizers around the world has generated new excitement and interest in the so-called "West Coast style" of synthesis that deviates from traditional synthesis norms.
The compact body of this volca synth features eight modules and 50 patch points. While learning the basics of a modular synth, you can use popular features of the volca synthesizer line to control a unique and different flavor of analog sounds.
An analog synth composed of modules
Eight modules
The volca modular is a semi-modular synthesizer consisting of independent analog synth modules, digital effects, and a sequencer. Each of the modules has been carefully selected for its stand-alone completeness. The modules are internally connected so that sound can be produced even before connecting the included pin cables, and the routing is shown by white lines on the panel. Module connections via a pin cable take priority over the internal connections, bypassing them.


SOURCE:
This consists of a triangle VCO carrier and a modulator. The complex overtones generated by FM modulation are sent through a wave folder circuit to add additional overtones, producing a distinctive sound. This module is important in determining the basic character of the sound of volca modular.
FUNCTIONS:
This section consists of two functions (envelope) generators. In addition to an AHR generator with attack, hold, and release, there's a Rise-Fall generator, also known as a slope generator, which not only applies time-varying change to the sound but also lets you patch the end trigger out back into the trigger in as a loop, making it usable as a VCO or LFO.
WOGGLE:
This is a random signal generator containing a sample & hold circuit that uses pink noise as its source. Two outputs are provided, allowing it to output either stepped or smooth random noise.
SPLIT:
This module distributes one input to two outputs. It can also be used in the reverse direction, combining two control or audio signals into one.
DUAL LPG:
This consists of two low-pass gate circuits. Typical of the West Coast style of synthesis, the module packages a filter with an amp, allowing the brightness and volume of the sound to vary together.
UTILITY:
This is a mixing scaling module that combines two signals in various ways. It can mix not only audio signals but also control signals, as well as inverting or attenuating those signals.
SPACE OUT:
This is a stereo module that applies a reverb-like effect to the audio signal.
SEQUENCES:
This module is for connecting to the internal sequencer. You can set the tempo, and select different rhythm divisions to output via the gate counter.
Reference sheet (included item)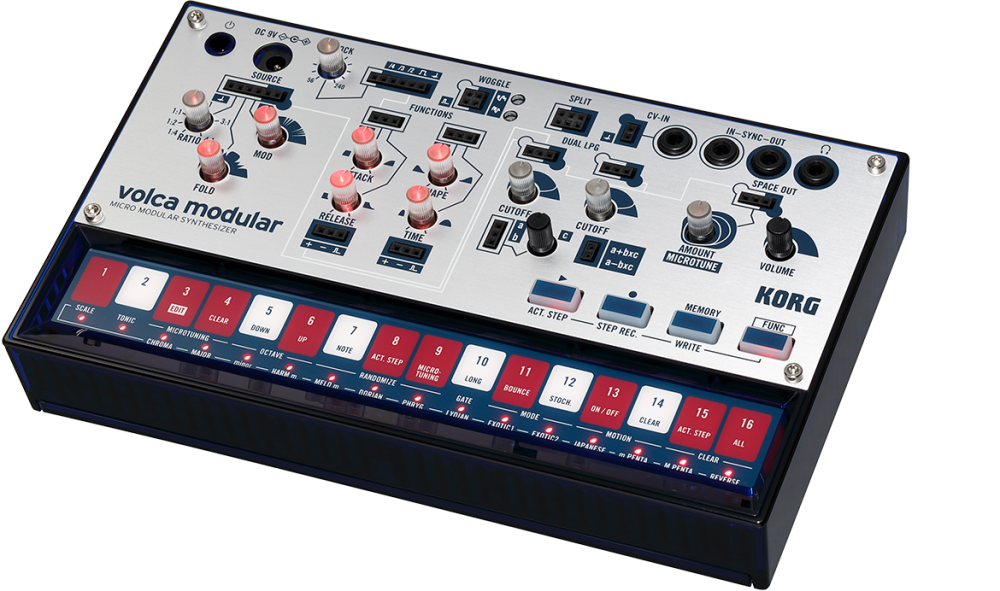 A fusion of West Coast style in a volca format
Analog synthesizers in which a simple oscillator such as a saw wave or square wave is modified by a filter are referred to as "East Coast style" because of their origin from well-known American manufacturers. Synths of this style, as exemplified by the MS-20, have continued to evolve toward a goal of being used in many mainstream musical genres, thus being equipped with a keyboard for performance. Their sounds are notable for sharp filters and rich presence, and can be heard in many well-known songs.
Synthesizers of the "West Coast style" evolved in a uniquely different direction from such musical developments. Pursuing the freedom that is inherent to electronic musical instruments, these were based on oscillators such as FM modulation which generated numerous overtones, and used random and complex control signals and low-pass gate circuits to vary tonal character and volume, so that slight movement of a knob might dramatically transform the sound. While their potential was acknowledged, the resulting sound and its changes were difficult to predict, causing these synths to be used in a more experimental capacity.
For these reasons, hardware products of this style have been few in number. However, recent years have seen the popularity of modular synths such as Eurorack, as well as DAW plugin instruments that resurrect classic bygone synths of the past. This world-wide movement toward embracing interesting sounds has received renewed attention, spurring a new look at the sounds of this style.
Starting from analog, and freely taking in all elements including FM and PCM, the volca series has also focused on this trend. And now, this distinctive "West Coast style" sound has been added to the KORG volca series.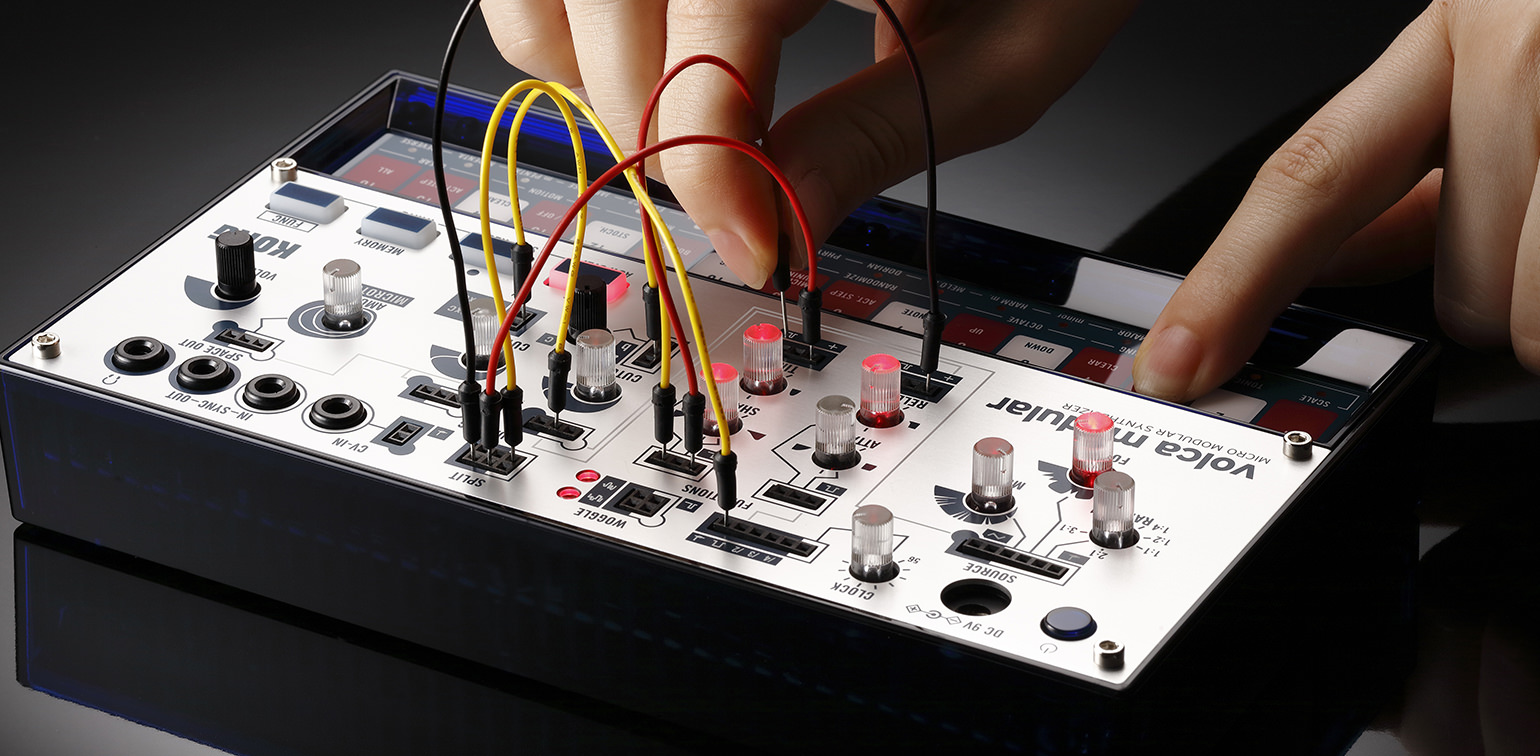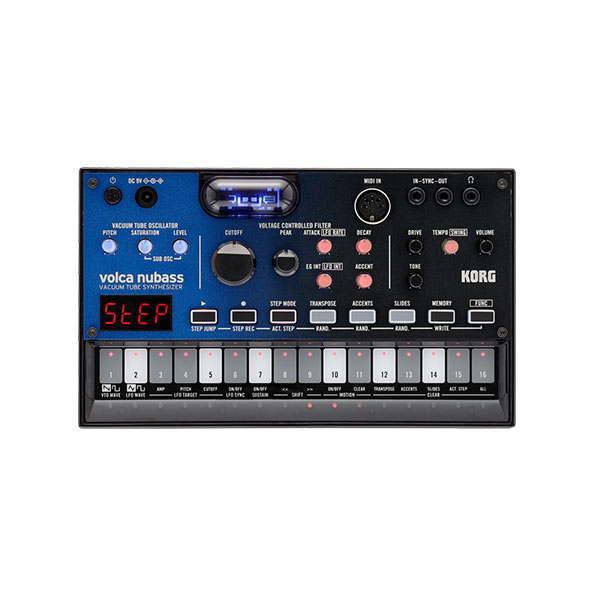 Powerful and versatile bass synthesis with a sound source based around a vacuum tube oscillator.
Even today, when digital technology allows electronic musical instruments to simulate any sound imaginable, the warm harmonics and distortion produced by analog vacuum tubes is still sought after. This distinctive sound has a quality beyond words that sets it apart, and cannot be captured by a response curve; it's the unmistakable sound of tubes.
The volca nubass is the first analog synth to be equipped with a Nutube new-generation vacuum tube in its oscillator circuit. By incorporating a vacuum tube, nubass produces a warm, thick, and rich sound, unlike any digital or transistor-based synthesizer. The familiar transistor ladder filter along with overdrive, and huge-sounding distortion, gives it the unmistakable character of a classic bass machine. Coupled with an LFO with flexible routing and sync, nubass also provides numerous possibilities for a new generation of music.
A truly unique bass machine for both classic and new sounds, with the power of modern synthesizer design. It's the volca nubass.
The fusion of a newly developed vacuum tube oscillator with a classic ladder filter
A vacuum tube oscillator circuit forms the heart of volca nubass, utilizing groundbreaking Nutube technology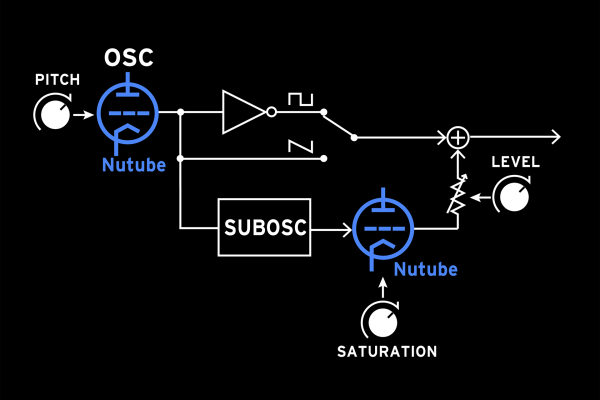 The Nutube is equipped with two vacuum tubes; one is used in the oscillator to generate a sawtooth wave or square wave. The other vacuum tube is used in the drive circuit of the sub oscillator, adding depth and warmth one octave below the oscillator. This oscillator and sub oscillator provide a circuit structure that brings out the harmonic character that only a real vacuum tube could provide.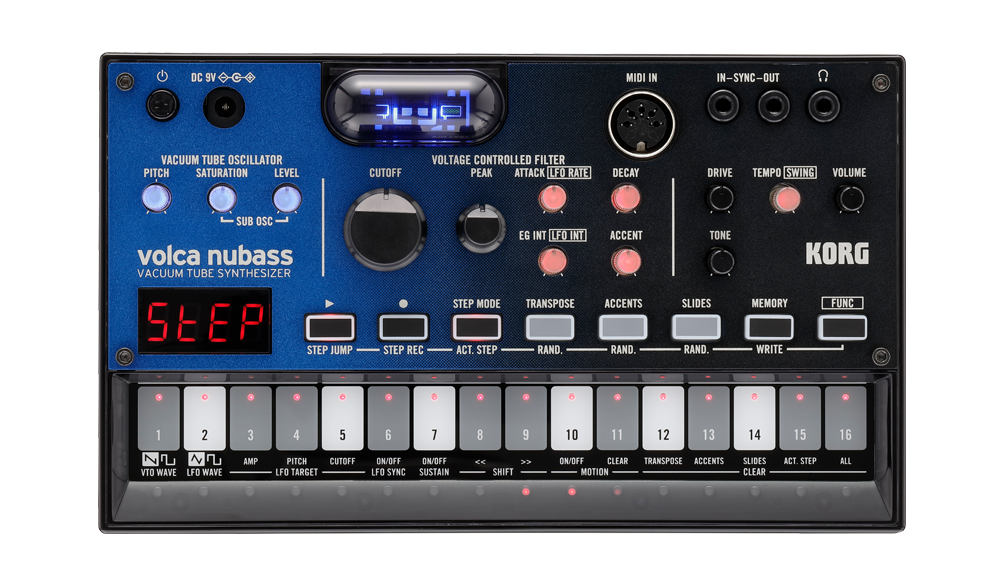 A transistor ladder low-pass filter that produces a distinctive sound
The low-pass filter defines the sound of this bass machine; it uses a transistor ladder design found on classic analog bass synths. This filter is uniquely dynamic in the way it affects a sound more than just ranging from bright-to-dark. Its wide range of timbral possibilities makes it ideal for a broad variety of dance music; you can use it to create the distinctive modulation that can be heard in acid house, or increase the resonance to bring out a sharp character that's appropriate for techno.
Analog driver circuit
nubass is equipped with overdrive that uses an analog circuit reminiscent of a classic stompbox. Turning the knob toward the right compresses the volume while causing mild distortion, adding thickness to your bass sounds. The tone knob also lets you adjust the crispness of the high-frequency range.
volca sequencer makes performing and composing simple and intuitive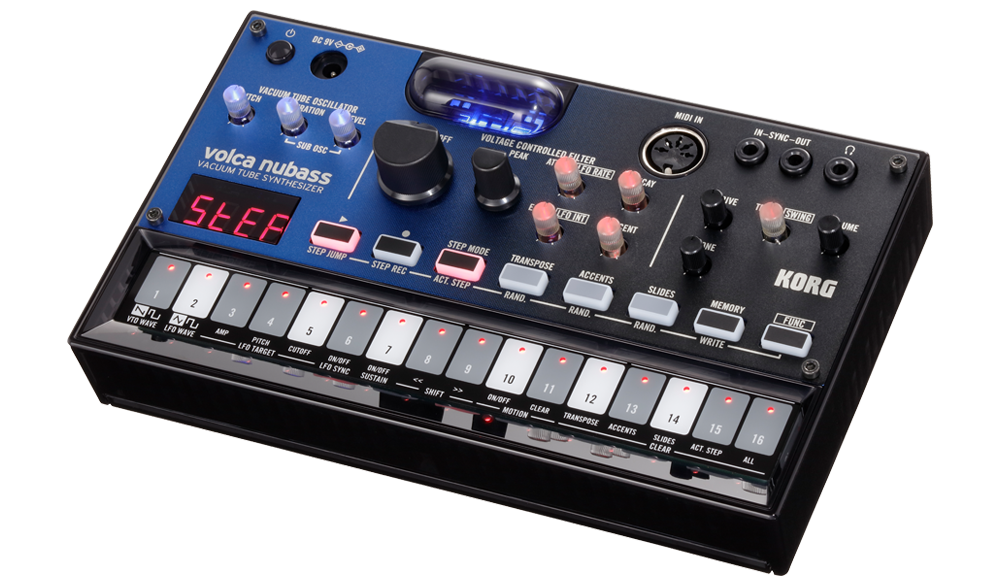 A 16-step sequencer that lets you automate parameters
The volca nubass is equipped with a full-fledged 16-step sequencer with a variety of functionality; by using it in conjunction with a rhythm machine, you can construct rhythm tracks or loop music.
You can use the 16 buttons for step input just like the rest of the volca series, or play the buttons as a keyboard for realtime recording. The chain function lets you play back multiple sequence patterns in succession, allowing you to loop up to 16 sequences.
The motion sequence function can record knob movements, applying parameter changes over time to the sound. This can be used when creating loops, or for live performances that are dynamic and original. Up to 16 sequence patterns together with motion sequences can be saved in internal memory.
There's also an active step function that lets you skip steps that you specify during playback; sequence patterns become more dynamic and exciting when they can be edited in real time during performances.
Three functions to create grooves on volca nubass
The sequencer of the volca nubass provides three functions that add the slap and slide performance techniques that are distinctive of acid bass: these transpose, accent, and slide functions are accessible and controllable through the step sequencer.
Transpose is a function that plays a note one or two octaves higher; it adds movement to the bass line while staying within the original scale. Accent emphasizes a note, creating dynamics that make the rhythm expressive. And the slide function that's indispensable to acid sound creates a smooth transition to the next note. Use these functions to add a sense of groove, and volca nubass will come alive in your performances and compositions.
Randomize settings can be applied to each of these three functions. In addition to generating unpredictable patterns, you can update the randomize settings to keep varying the patterns, bringing out more unexpected and exciting ideas from the sequencer.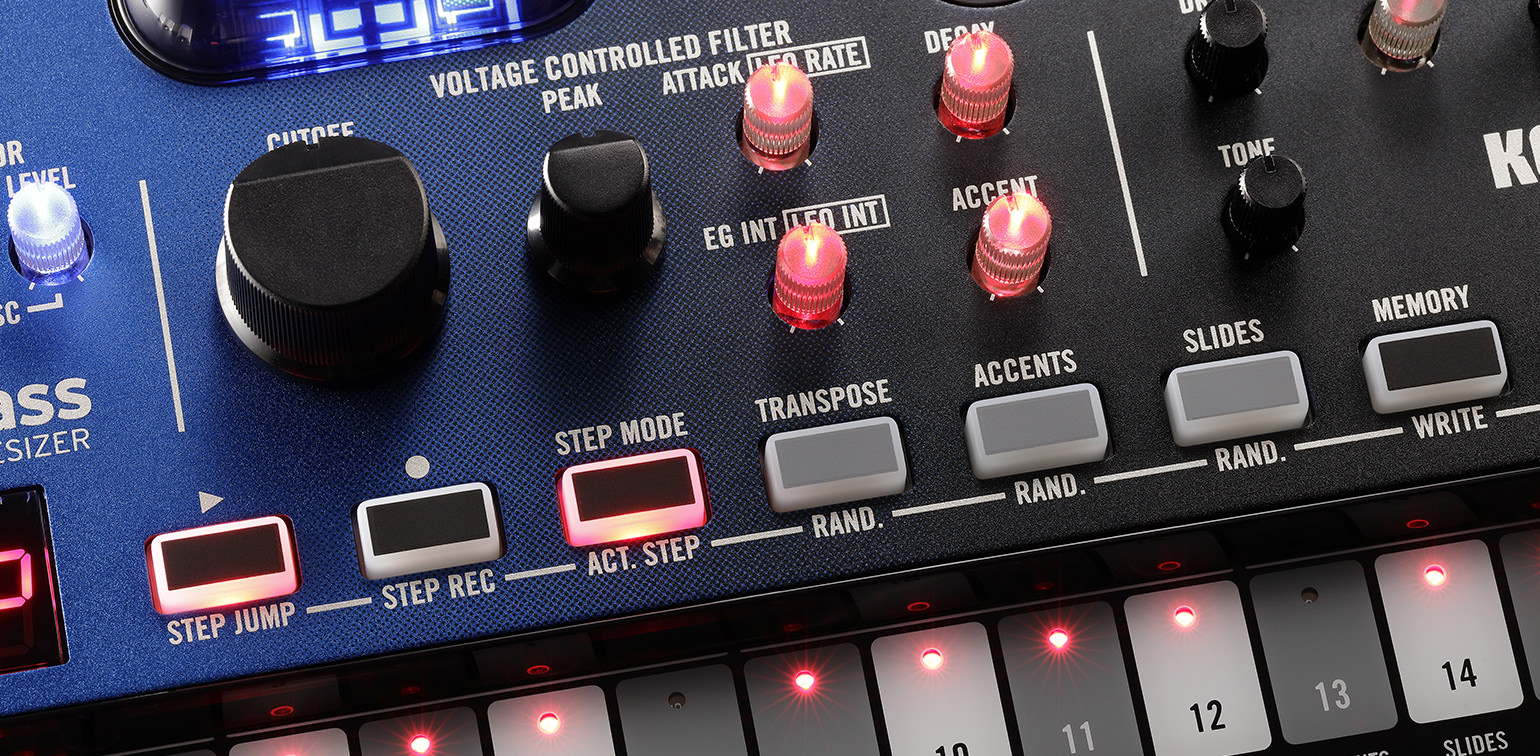 Connectors that allow synchronized performance and external control
Since this unit provides a sync jack for easy connection to Korg groove machines, you can connect it to another volca series unit or to equipment such as an electribe or the SQ-1, and enjoy synchronized playback with the sequencer. There's also a standard MIDI IN connector, so you can use the volca nubass as a sound module for your DAW.
Enjoy anywhere
Compact, size, battery operation, and built-in speaker mean that you can take this unit anywhere and enjoy playing on the go.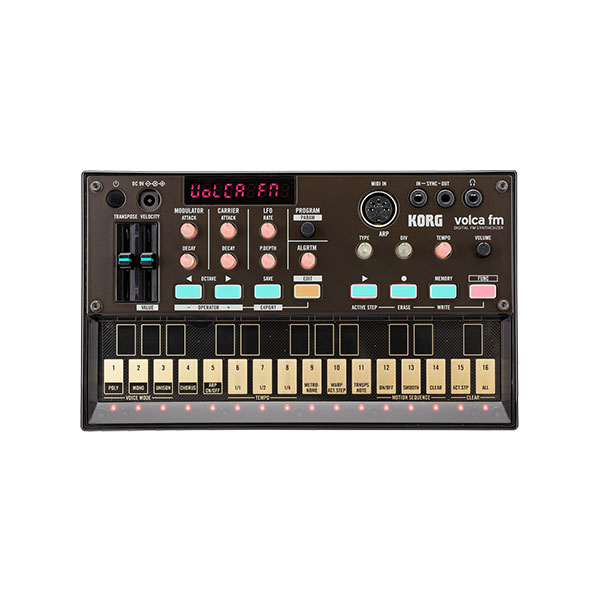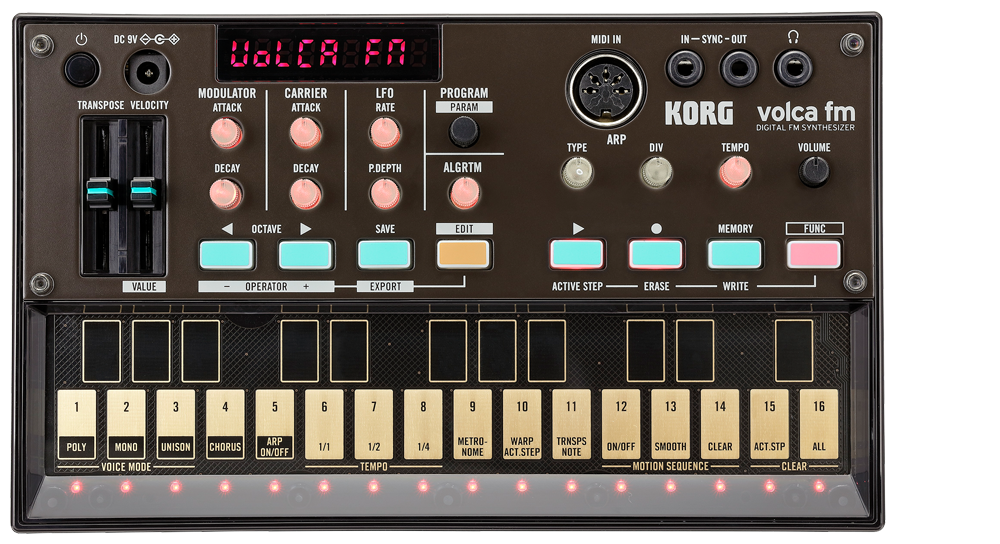 3-voice polyphonic FM synthesizer, fully compatible with classic unit
The appearance of FM (Frequency Modulation) sound generation was a major turning point in the history of synthesizers. Its metallic and sharp sounds, most notably electric piano and synth bass, have been loved by all music creators since 1980 up to the present time. The volca fm perfectly reproduces the sound engine of the classic digital synthesizer that made the world aware of FM synthesis. Its six operators and 32 algorithms provide complete compatibility, and it can even load files in the SYS-EX/SYX format of the Yamaha DX7.
Super-easy sound editing
The volca fm makes FM sound editing accessible with the MODULATOR/CARRIER super-easy edit knobs – the knob movements are mapped to multiple parameters for sound changes that are easy to understand. FM enthusiasts can also menu dive into full parameter edits. The volca fm comes accompanied with a Parameter List Guide to assist this.
Onboard CHORUS effect
Along with a perfect reproduction of the sound engine, the volca fm is also equipped with a lush chorus effect to add depth to your sounds and further expand its sound-creating potential.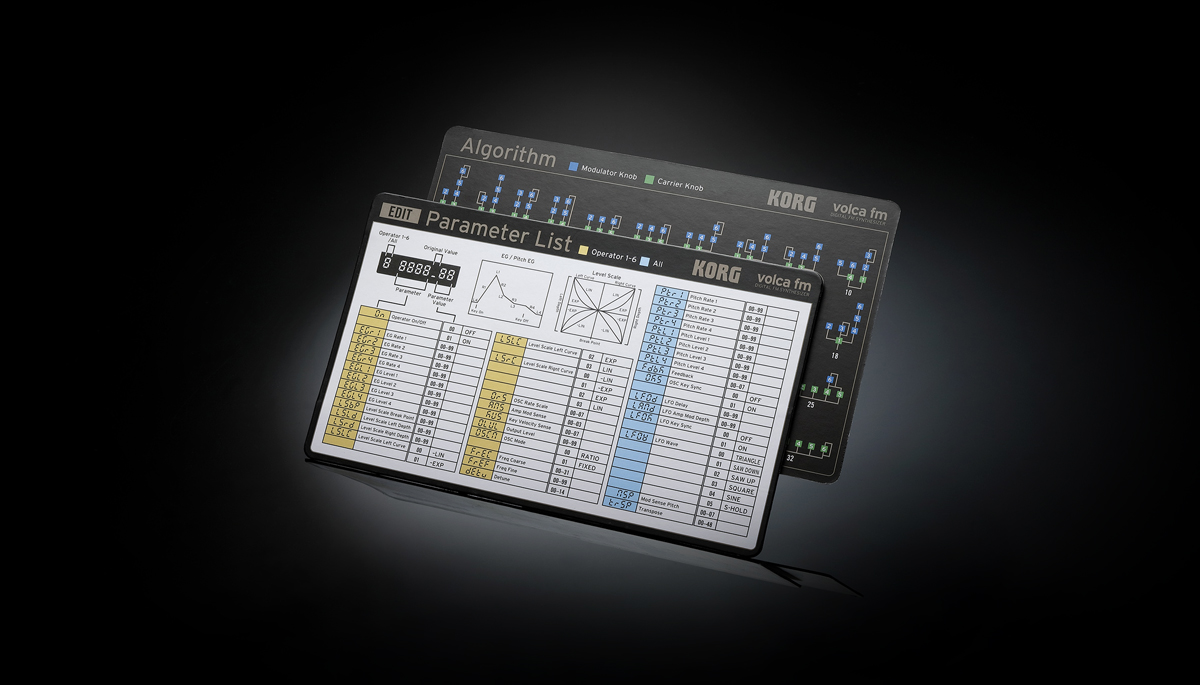 Volca style sequencing and more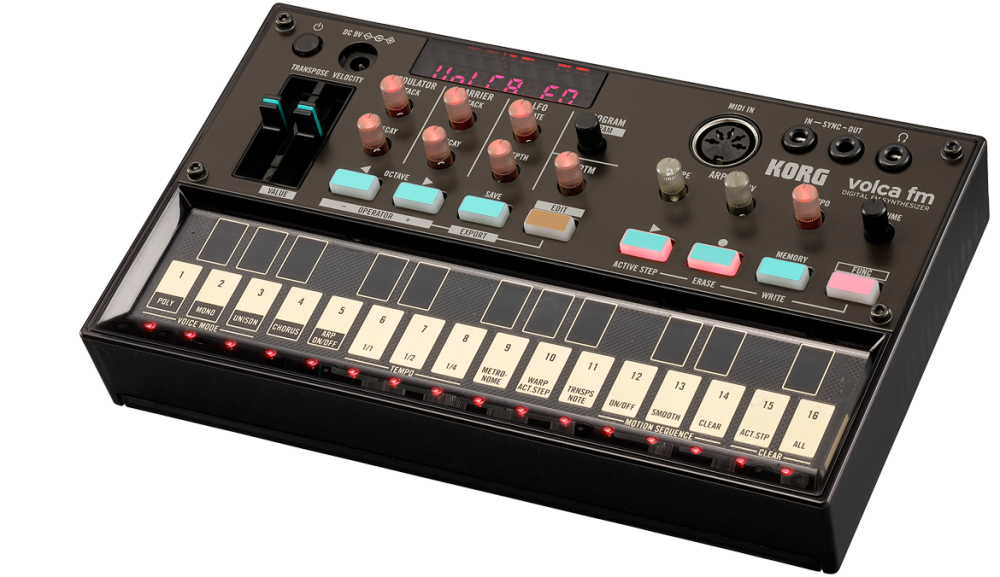 16-step sequencer allows to automate each parameters
There's a loop sequencer with up to 16 steps, allowing you to record your performance on the touch panel keyboard just as you play. It's easy to create phrases that come to mind. Up to sixteen sequence patterns can be stored in internal memory.
And the motion sequence function records your knob movements, letting you add time-varying change to the sound. This is great way to polish your loops, and also lets you generate highly original live performances.
WARP ACTIVE STEP, ARPEGGIATOR and PATTERN CHAIN make crazy looping rhythms and patterns
In addition to the active step function that lets you skip steps during a sequence, the volca fm provides new functions that enable you to generate more irregular rhythms. If the active step is fewer than 16 steps, you can use the warp active step function to compensate to occupy the same playback time as 16 steps; then by synchronizing the playback with another volca series unit, you can deliberately skew the step timing to generate truly unconventional performances.
In a first for the volca series, the volca fm is also equipped with an arpeggiator. By using this in conjunction with a motion sequence you can create extremely eccentric rhythm patterns.
Furthermore, the pattern chain function lets you connect multiple sequence patterns for successive playback, making it possible to construct large-scale developments of 32, 64, or even 256 steps by joining up to 16 sequences.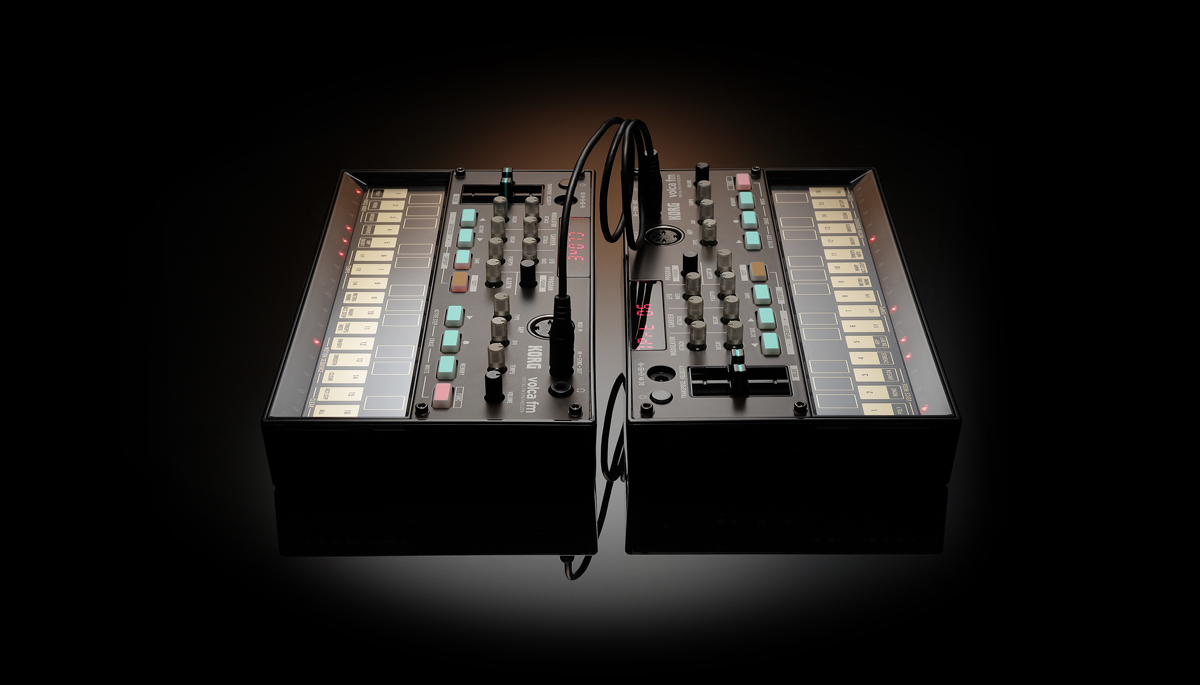 High playability
Make clone by synchronizing two units of volca fm
The volca fm provides a sync connector that can be easily connected to Korg's groove machines. Connect this to the other volca series unit, the electribe, or the SQ-1, and experience a session with synchronized sequencer playback. And when two units of volca fm are connected, you can clone the sound programs and sequence data from volca fm to volca fm.
The MIDI IN jack lets you use the volca as a sound module for DAW and MIDI controller.
Enjoy anywhere
With its compact size, battery operation, and built-in speaker, it's easy to take the volca anywhere and perform any time.
Peerless beats generated by solid analog drum sounds and an Electribe-style sequencer
Even today, more than thirty years after the age dominated by analog synthesizers, we just can't let go of the sound of analog rhythm machines. Those thick sounds have the power to stand up to guitar and acoustic drums, and are still indispensable for track-making or live performance.
The volca beats gives you those analog drums plus the easy-to-use step sequencer of the Electribe; it lets you turn your inspiration into reality and generate beats with the best high quality sounds.
Powerful analog drum sounds
・Real analog sounds created with reference to classic rhythm machines
・Maximum effect from minimal parameters – a unique advantage of analog
・PCM sound engine expands possibilities when used with analog sounds
Loop sequencer distilled from the Electribe series
・The Electribe series step sequencer
・Stutter function generates repeated triggers that dramatically change the sequence
・Active Step function generates new bass lines by removing or inserting steps.
・Step Jump function instantly plays only the step you're pressing
Convenient functions for incredible ease of use
・SYNC jack and MIDI IN connector allow synchronized performances with multiple units or with your DAW
・Compact size, battery-powered operation, and built-in speaker for enjoyment anywhere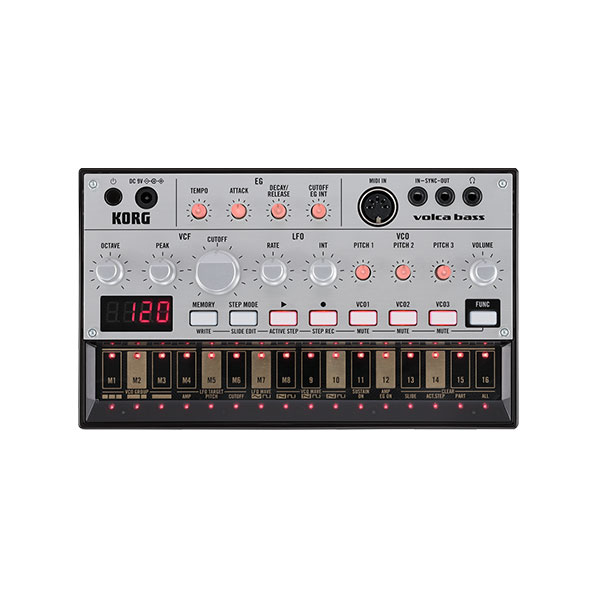 Powerful analog bass sound creation and an Electribe-inspired sequencer for the ultimate bass lines
Aggressive sounds that stand up to the drums; fat sounds that support the rhythm; funky sounds that generate a groove – the volca bass is an analog bassline groove box that has what you need for a wide range of bass lines.
Although simple in structure, the analog sound engine has an unmistakable presence with subtle nuances that cannot be reproduced by a digital simulation; it's a great choice for acid house and many other styles of music. The step sequencer distilled from the Electribe is not only visually intuitive; it's also a powerful way to generate "free form" bass loops that will stimulate your inspiration.
Powerful analog bass sound
・Three oscillators generate a variety of bass sounds
・Newly designed analog filter for crisp, bright response
・Simple structure with single VCF, VCA, LFO, and EG
Loop sequencer distilled from the Electribe series
・Step Sequencer distilled from the Electribe series
・Slide function that's indispensable for acid and other types of electronic music
・Active Step function generates new bass lines by removing or inserting steps
Convenient functions for ease of use
・Self-tuning function overcomes pitch drift – the weak point of an analog synth
・SYNC jack and MIDI IN connector allow synchronized performances with multiple units or with your DAW
・Compact size, battery-powered operation, and built-in speaker for enjoyment anywhere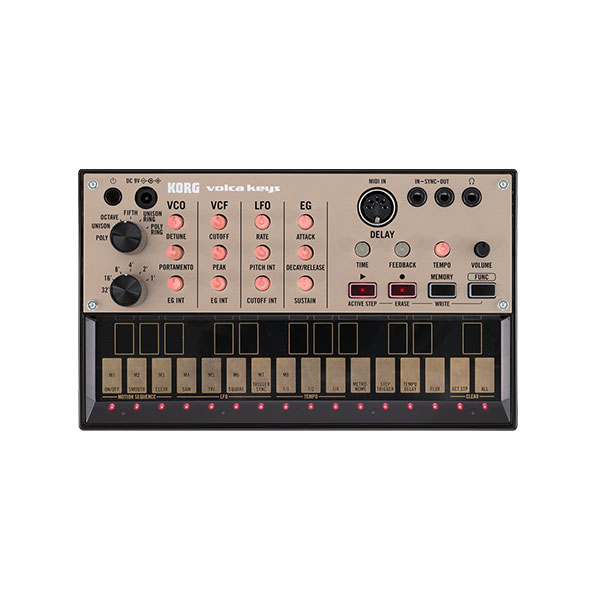 The ideal introductory synthesizer, with a simple – yet powerful – polyphonic analog sound engine and loop sequencer
Volca Keys is a long-awaited synthesizer that adds a new chapter to the long and storied history of Korg's analog synthesizers. Volca keys is a 27-key analog lead synth that generates unbelievably powerful sound from its compact body. Starting with a filter section that uses the circuitry of the legendary miniKORG700S (1974), it delivers astonishing sound that takes full advantage of Korg's half-century of know-how in circuit design.
With a simple structure that includes delay effect and a sequencer, it's also an ideal choice as a first analog synth. It offers the richly expressive sounds that are distinctive of an analog synth, providing the enjoyment of simple yet deep sound-creation.
The polyphonic synthesizer you've been waiting for
・Simple three-voice analog synthesizer
・Voicing function lets anyone create sounds easily
・Delay effect for even more sonic possibilities
Simple loop sequencer
・Loop sequencer lets you record phases just as you play them
・ Use the Motion Sequence function to meticulously craft your loops
・Use the Active Step function and Flux function to add dynamic change to your sequences
Convenient functions for tremendous ease of use
・Self-tuning function overcomes pitch drift – the weak point of an analog synth
・SYNC jack and MIDI IN connector allow synchronized performances with multiple units or with your DAW
・Compact size, battery-powered operation, and built-in speaker for enjoyment anywhere
Previous Next חברת מרום כלי נגינה בע"מ מעורבת בתעשיית המוסיקה בישראל מעל 40 שנה! אנו עוסקים בייבוא, שיווק, מכירה, תמיכה ותיקון בתחום כלי הנגינה וציוד סאונד ומעניקים שירות ותמיכה באופן מקצועי ויעיל. אנו גאים במיוחד לייצג בבלעדיות מעל 60 חברות מובילות בעולם ולהציע לכל קהל לקוחותינו מגוון רחב של מוצרים איכותיים! כל מוצר שאנו מציעים […]
[embed]https://www.youtube.com/watch?v=YdkBaC3XXm8[/embed]
The Bass D.I.+ features a D.I., separate clean and distortion channels, an array of controls to fine-tune your sound, an a noise gate trigger control to eliminate hum and hiss
THE LONG STORY
Finally, all the essentials in one tough little box. You need a serious D.I. for playing live and laying down killer tracks. You've got to have a preamp and finely tuned EQ to add punch to your tones. And you definitely can't do without some rich, custom distortion. This one-of-a-kind pedal gives you the whole deal in a bomb-proof enclosure that will survive even the most out of control gigs-and players. Built with the highest quality components, the M-80 can give you eve everything from warmth and transparency to a volcanic roar, without making you scroll through menu screens or an indecipherable manual. Engage the color switch for some sweet preset EQ, then tweak your tone with three band control. Dial in your ideal distortion with the gain knob and blend just the right amount into your clean signal, then kick it on and off at will. The adjustable noise gate pours on the sustain and cuts out hum and hiss. With XLR and parallel 1/4 outputs and a phantom power switch, you'll never have a problem delivering your choice new tones